hello from the soggy fields, where we are grateful that all the buildings and trees remain standing. Fortunately fall vegetables are pretty tolerant of wind and rain, so the crops look good. This is the next to last harvest this week so we are heavily into the late fall crops now.
This week, other than hunkering down for the hurricane, we've been "popping" garlic, breaking the bulbs down into cloves, and working on acidifying the blueberry patch with minerals that contain pH lowering sulfur, to put them to bed for the winter. Blueberries do not like our county's sweet limestone soils, so they green up and thrive with our help.
Grain mill
: I will be bringing my grain mill in this week--you may bring your shelled corn and grind it for cornmeal if you like. It is a good arm workout :-)
Great News for Homefields--Nov 30th Extraordinary Give Day!
The Lancaster County Community Foundation will give a partial match to Homefields for donations given to Homefields online through
http://www.extragive.org/
on November 30th only.
The more money given to Homefields that day, the greater the amount that the Foundation will give to Homefields.
It's a great way for you to help purchase the new land, and grow the gift you give at the same time, as you consider year-end giving. Funds given are tax deductible. Please mark your calendars and read more at the extra give website and talk to us as well.
Farmer Profile--Interview with the deer:
How long have you been coming to the farm
: for many generations, ever since our great grandaddy Buck E. Lucky found this place.
What do you like best about the farm
: highly mineralized organic vegetables
What is your favorite vegetable that we grow
? sweet potato vines, edamame leaves, beet greens and hearts of lettuce heads right before the farmers are ready to harvest them, whatever is succulent.
Hurdles that you face:
when the farmers put this hard to see black ribbon around the fields that smells weird and also when the lettuce has hot pepper or fishy flavor.
What makes us snicker:
when the tall farmer runs and hollers at us to get out of the lettuce, waving his arms or zooms towards us with the Gator.
We value your input on the season--please fill out our survey and let us know how we are doing and what we can do for next season.
http://www.surveymonkey.com/s/H6V8WKY
Saueruben: Turnip Kraut is easy to make and tasty too. We made pink turnip kraut last year--pretty.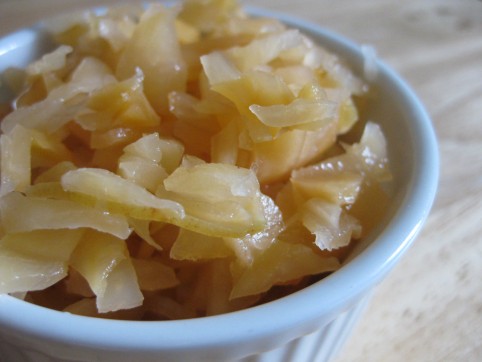 photo from:
http://herbangardener.com/2011/05/26/how-to-make-sauerruben/
Turnip Kraut is pretty easy: top and tail, peel, shred in whatever shredder device you have, weigh, add 1/2 tablespoon of salt per pound and leave overnight. Next day, pack into crock and push down. The turnips should be covered by about 2 inches of briney water. If not, add salty water to the tune of 1.5 teaspoons of salt per cup of water. I also add some whey, about 1/4 cup, to kick off the lactic fermentation. Then cover mine with a double layer of muslin and weigh with a board and a large mason jar filled with water. this is from:
http://backyarditarian.com/tag/turnip-kraut/
Suggestions for the harvest
Napa Cabbage: great for stir fries, super nutritious, use wherever cabbage is called for. Awesome for kimchee making. See last week's directions for it.
Ornamental/Indian/Flour Corn: decorate with it and then grind it for cornmeal. Bring your shelled corn to run through the mill for cornmeal.
Scarlet Queen Turnip: amazing scarlet color outside, white inside. Eat raw as turnip sticks or cooked.
see turnip kraut instructions below--sauerruben
Kale: my favorite of the greens. It is said that if you could only eat one vegetable, kale would be the one that would do you the most good, as it is a nutrition powerhouse.
Arugula: a peppery salad green that is complimented well by fruit and goat cheese in a salad.
Mustard Greens: known for their pungent flavor, these greens can be added to a salad for a mustardy hot punch, or can be added to soups or stir frys. Flavor mellows when cooked.
Tatsoi: a mild green that is great raw in salad or cooked. We think of it as fall spinach.
Purple Mizuna: a unique mustard green from Japan that has mild flavor and is great in salad for color and flavor.
Senposai: has a sweet and tender cabbage-like flavor. Makes a great outer wrap for veggie wraps. Use raw or cooked.
Watermelon Radish: These are mild for a radish and have a striking pink interior. Greens edible.
"Dessert Turnips:" also known as White Lady, Hakurei, or Salad Turnips, this white, mild and sweet turnip is a great snack. Best eaten raw, but of course, you could cook them as well. Greens are edibl
e

.
Thanks for being a part of the farm. Enjoy!

Your farmers.